BostonEstateBuyers.com is your premier silver coins buyer in Boston! Our licensed and bonded jewelry and coin appraisers will help you to determine the value of your silver coins and help you to receive the highest price possible. When you are ready to sell your US silver coins for cash, contact us.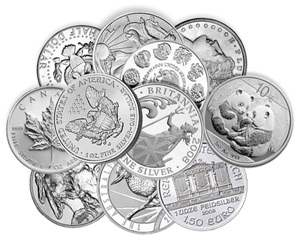 Boston Estate Buyers is conveniently located in suite #403 of one of Boston's most famous historic buildings, the Boston Jewelers Exchange Building, which is located at 333 Washington Street in Downtown Crossing.
We invite you to visit our Boston jewelry office; you can find validated parking for our valued customers at 33 Arch Street, Boston.
If it is more convenient, you can also request to have one of our silver coin appraisers visit you at your workplace, at your home, or at your bank, where we can offer you the highest appraisal possible for your silver coins.
We'd love to hear from you. Call the Boston Estate Buyers' office at 617-523-1193.
Popular Silver Bullion Coins
Below is a list of the popular silver bullion coins we buy most often:
APMEX Silver Round Coins
Morgan – Peace Silver Dollar
Silver American Eagle Coins
Silver Mexican Libertad Coins
Silver Canadian Maple Leaf Coins
US Silver Coins 1964 Or Earlier: Silver Dollars, Half Dollars, Quarters, and Dimes
Our silver coin appraisers at Boston Estate Buyers will provide you with an honest and fair assessment of your silver coin collection and we remain committed to offering you the highest price possible.
Contact our silver coin appraisers online.
Call us at 617-523-1193 or send us an email.