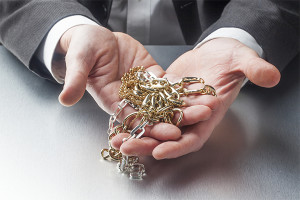 If you wish to sell gold jewelry that is old or unwanted, then contact BostonEstateBuyers.com today. We are jewelry buyers located in Boston Massachusetts, offering the highest cash payments for your gold, platinum, diamonds and jewelry that you no longer want.
When you select BostonEstateBuyers.com as your premier jewelry and diamond buyers, you can rest easy knowing you are getting the highest payment for your jewelry. Boston Estate Buyers are licensed and bonded, and can commute to wherever you are located (your home, work, or your financial institution) in order to provide you with a comprehensive jewelry appraisal.
Boston Estate Buyers are always in the market for any piece of pre-owned jewelry you may have for sale, including:
Gold, silver and platinum jeweler items
Diamonds and jewelry with precious stones
Vintage and Estate Diamond Rings
If you live near or will be visiting the Boston area, we invite you to drop in and visit our jewelry offices. Boston Estate Buyers is located in Downtown Crossing, suite #403 in the Historical Boston Jewelers Exchange Building at:
333 Washington Street Boston, MA 02108
Please call our line at 617-523-1193 for more information about our jewelry buying services.
Boston Estate Buyers offers the highest price possible for unwanted gold and gold jewelry.
Contact our gold jewelry appraisers online. Or send us an email.
Boston Estate Buyers services Boston and surrounding area including, among others, the Massachusetts's towns of Scituate, Dedham, Sharon, Hanover, Medford, and Norwell.